DCU Innovation Campus, Old Finglas Road, Glasnevin, Dublin 11, Dublin
Sat, 10th Oct 2015 10:00 till 16:00
Workshop details
Beginners
0.00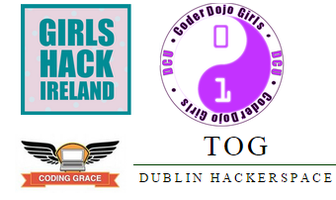 CoderDojoGirls, Girls Hack Ireland and Coding Grace have combined forced for an artsy themed coding hackathon to celebrate International Day Of the Girl and EU Code Week.
This is a one day event focusing on programming music and developing game apps. If you've never coded before this is the right place to start! If you've coded before, betcha you've not programmed music using Sonic Pi or make a story-telling game with Fungus Games!
You may be curious about hardware, the TOG Dublin team are gearing up to run an awesome hardware hack.
Mentors will be available to support all who attend. Parents who are interested will have the opportunity to learn Python.
There will also be a Stem Ed workshop for any teachers who wish to attend.
The day will also feature talks from amazing women working in the Games Industry, Jen Carey from Havok and Elaine Reynolds from Simteractive .
Note:
Participants under 17 must be accompanied by an adult.
Kids must have a laptop
---
Please note
You must bring a laptop if you are attending a workshop.
Python
If you have a Mac, you may need to down XCode (big download). have Python 2.7.9 installed. Download via https://www.python.org/ Sublime Text Editor installed via http://www.sublimetext.com/ -- if you have your own coding editor, feel free to use it
---
If you have further questions, post on the google group: https://groups.google.com/forum/#!forum/coderdojo-dcu
NOTE: We do not reply to emails from Eventbrite. Please use the forum to post a question. Thanks a mill.
Twitter
More information:
https://www.eventbrite.ie/e/codergirlhackdaydcu-10am-4pm-tickets-18386613857
Ticket sales have ended.
Thank you
CoderDojoGirls@DCU for Partner
What is Coder Dojo? We hacked together a cool hangout that puts the real power of the internet and technology in the hands of the Irish youth. The true power of the net comes from coding, designing and having fun. CoderDojo is a place where you can learn from others and share what you are doing! Each week we have a hands on session with technologies like HTML5, App Development, PHP or Python.
At CoderDojoDCU we provide a class where girls will definitely not be outnumbered, the content is more fun for girls and the mentors are also majority female (you'll find the odd one with a deeper voice and a dodgy wig ;) )
https://twitter.com/CoderDojoGirls
Girls Hack Ireland for Partner
Girls Hack Ireland is a program developed by The Insight Centre for Data Analytics (@insight_centre with the aim of generating knowledge & interest among younger girls to pursue the academic disciplines of STEM (science, technology, engineering and mathematics) subjects through creative, interactive learning.
https://twitter.com/GirlsHackIE
Insight Centre for Data Analytics (DCU) for Partner
About The Insight Centre for Data Analytics
The Insight Centre for Data Analytics is a joint initiative between researchers at Dublin City University, NUI Galway, University College Cork, University College Dublin and other partner institutions. Insight brings together more than 200 researchers from these institutions, with over 30 industry partners, to position Ireland at the heart of global data analytics research.
DCU is a young, dynamic and ambitious university with a distinctive mission to transform lives and societies through education, research and innovation. Since admitting its first students in 1980, DCU has grown in both student numbers and size and now occupies a 72 acre site in Glasnevin, just north of Dublin city.
https://www.insight-centre.org/content/dublin-city-university
Intel Ireland for Sponsor
Ireland is Intel's centre of manufacturing excellence in Europe. Since 1989, Intel has invested $12.5 billion, turning 360 acres of the Collinstown Industrial Park into the most advanced industrial campus in Europe.
Over the past 2 decades Intel in Ireland has come to represent a diversity of activities across the spectrum of Intel business from advanced manufacturing to cutting edge research and design. Today, Intel has 5,200 employees across the island of Ireland.
http://www.intel.ie/content/www/ie/en/homepage.html
DCU Innovation Campus for Host
The objective of the DCU cleantech innovation campus is to act as a new national centre for innovation in the Cleantech sector, one of the fastest growing areas of economic activity and worth more than €5 trillion globally. The new campus, which will be a location of choice for cleantech start-ups, SMEs and larger companies, is expected to drive significant green economy growth in the greater Dublin region, supporting 200 jobs over its initial 18 months of operations.
https://www4.dcu.ie/innovationcampus/index.shtml
Dublin Commissioner for Startups for Sponsor
Niamh Bushnell is Dublin's first Commissioner for Startups, a role created as a result of the Activating Dublin report spearheaded by Dublin Chamber of Commerce and Dublin City Council. The position is privately funded through the DCU Ryan Academy for Entrepreneurs.
The mission of the Dublin Commissioner for Startups is to develop a voice, an image and a platform for Dublin as a great startup city, nationally and internationally.
Dublin is the city of "the 3 Forces": worldclass startups, a strong local ecosystem, and the most innovative multinationals on the planet. The confluence of these 3 is what makes Dublin unique and a magnet for entrepreneurs, startups, investors and media globally.
The Commissioner's office runs a number of initiatives and activities including: 1st Friday Brekkies, a publication called Dublin Globe, the Dublin Data Initiative and the Startup Community Fund.
Unity for Partner
Unity Technologies is shaping a booming global games market and has seen escalating uptake of the Unity engine and its complementary and integrated game promotion, user retention and analytics services.
The Unity engine is far and away the dominant global game development software. More games are made with Unity than with any other game technology. More players play games made with Unity, and more developers rely on our tools and services to drive their business.
Smart Futures for Partner
Smart Futures is coordinated and managed by Science Foundation Ireland in partnership with the Engineers Ireland's STEPS programme and is supported by organisations such as PharmaChem Ireland, the Royal Society of Chemistry, ICT Ireland, the Irish Medical Devices Association (IMDA), the Institute of Physics and others.
Silicon Republic for Partner
Since going online in 2001, Siliconrepublic.com has gone from being Ireland's No 1 resource for technology news, with countless awards to its name, to one of the leading online publications in Europe with over half-a-million pageviews each month and growing. We have become the 'go to' destination for those seeking to be informed on all things tech and innovation in Ireland, Europe and further afield.
Inspirefest 2016 is a two day international event that connects professionals interested in the future of science, technology, engineering, and mathematics with new perspectives on innovation, leadership and success. Plus unique networking at our exciting Fringe Festival taking place from 30 June - 2 July, 2016. Details: http://inspirefest.com/
https://www.siliconrepublic.com/
IBM Ireland for Partner
IBM is one of Ireland's leading providers of advanced information technology, products, services and business consulting expertise. We are dedicated to helping our clients innovate and succeed through the end-to-end transformation of their business models and the application of innovative technology and business solutions.
Want to sponsor us?
Contact CoderDojoGirls@DCU, Girls Hack Ireland and Coding Grace at